London, December 16th, 2020: UK video game publisher Reef Entertainment and game developer Teyon is proud to announce the release of TERMINATOR: RESISTANCE ENHANCED for PlayStation®5, set to release on 26th March 2021.
TERMINATOR: RESISTANCE ENHANCED is a new version of TERMINATOR: RESISTANCE taking advantage of the new capabilities of the PlayStation®5 console. Jump back into the action with Jacob Rivers and experience his story from lowly private to hero of the Resistance once more, while enjoying improved framerates and graphical fidelity, faster load times, and the new hardware features of the DualSense controller. TERMINATOR: RESISTANCE ENHANCED will also contain updates brought to the title on PC, as well as the brand new INFILTRATOR MODE which sees players get under the skin of the series' iconic T-800 series Infiltrator.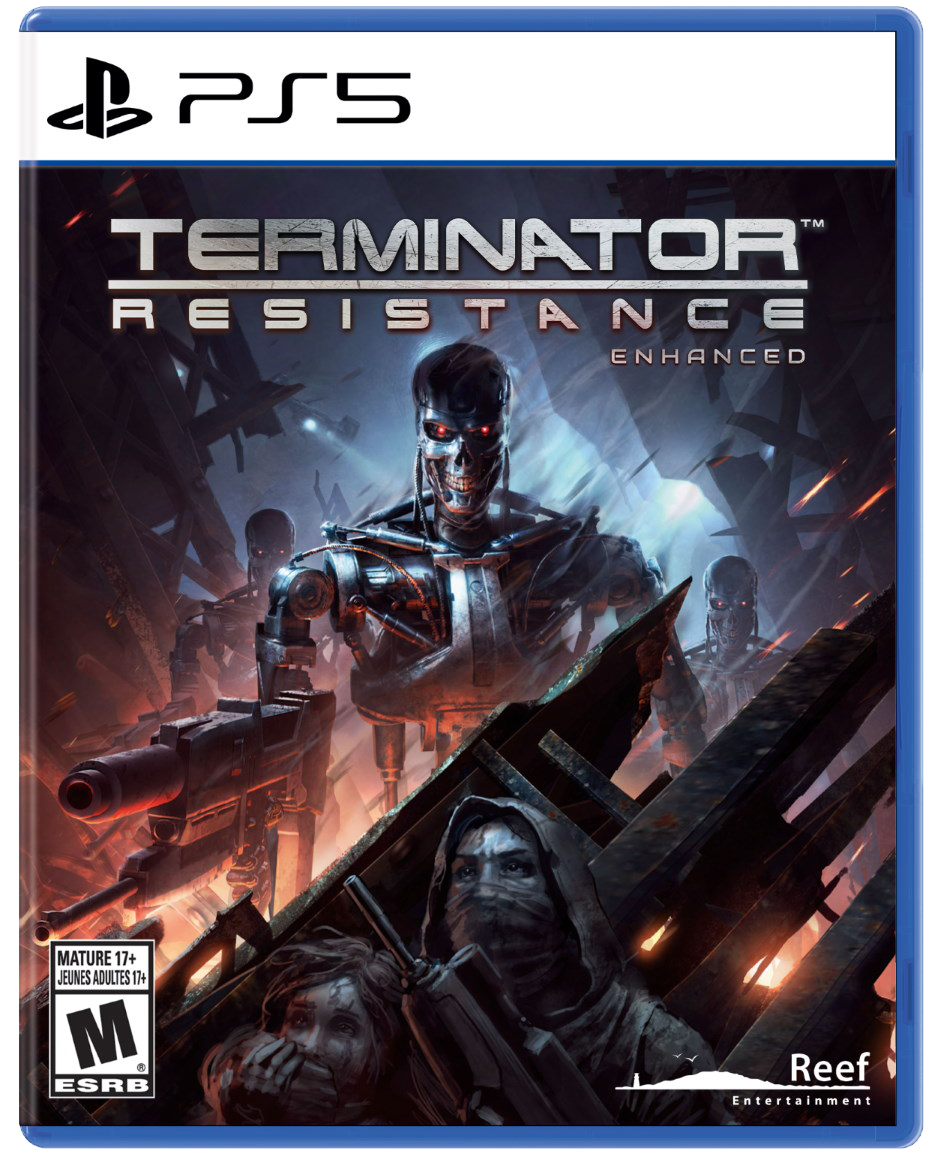 KEY FEATURES
● A fully updated version of the main game including balance & difficulty patches previously released on the PC*. Players who own a PlayStation®4 version of the game will also receive a free upgrade to the PlayStation®5 version.
*The PS4 & Xbox One versions of Terminator: Resistance will receive the upgrade patch for balance & difficulty in Q1 2021.
● New INFILTRATOR MODE in which players can get under the skin of a T-800 series Infiltrator unit and strike out against Resistance forces.
● A range of visual improvements taking advantage of the PS5's more powerful hardware, including upscaled 4K resolution and locked 60fps, higher resolution textures, higher polygon counts, tessellation, improved lighting and dynamic shadows, improved post-processing (anti-aliasing, bloom and more), and more detailed particle effects.
● A variety of features new to PS5 including Game Activities which can be used to track the player's progress in missions, DualSense adaptive triggers for weaponry, and colour shifting within the DualSense light bar to reflect the player's health.
● 4x faster load times on average.
● There will be two physical editions available for the PlayStation®5 version of TERMINATOR: RESISTANCE ENHANCED; a Standard Edition, and a Collector's Edition, which includes a Steel Book, two-part hardback comic book "Zero Day" from Dark Horse* (previously available in digital format with the PlayStation®4 and Xbox One versions of the game), as well as 4 character art cards and a collectors box.
*Comic text in English only.
● A paid DLC expansion with new narrative content will also be available in Summer 2021 on the PS5 and PC versions of the game.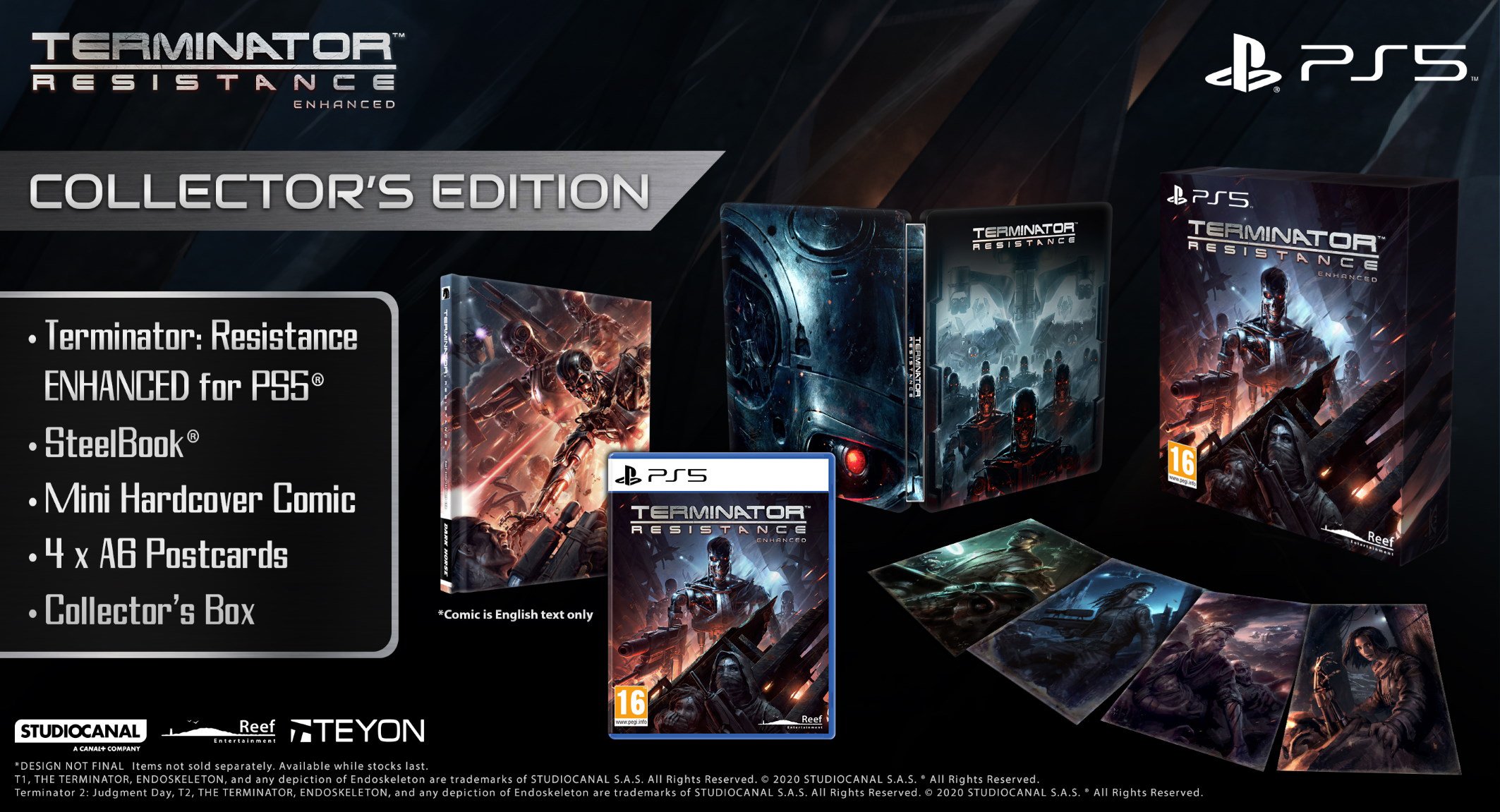 About: 'THE TERMINATOR' and 'T2: JUDGMENT DAY'.
'THE TERMINATOR' was released in 1984 and is widely regarded as a science-fiction classic, launching a beloved franchise that has been expanded on via a variety of media and further movies. A humanoid cyborg from a future dominated by machines is sent back in time to kill the mother of the as-yet-unborn rebel leader John Connor. Meanwhile, the rebels also select an agent to travel back in time and stop the Terminator, thereby ensuring that events follow their pre-ordained course.
'T2: JUDGMENT DAY' was released in 1991 and was an immediate worldwide box office success. Continuing the tale, T2 remains at its heart a classic science fiction tale featuring robots running amok, time travel paradoxes and dystopian future worlds. Opening to huge fanfare, T2 went on to become one of the highest-grossing, Academy Award winning, and most culturally iconic science fiction motion-pictures of all time.
About STUDIOCANAL:
STUDIOCANAL, a 100% affiliate of CANAL+ Group held by Vivendi, is Europe's leader in production, distribution and international sales of feature films and TV series, operating directly in all three major European markets - France, the United Kingdom and Germany - as well as in Australia and New Zealand.
STUDIOCANAL owns one of the most important film libraries in the world, boasting more than 6,000 titles from 60 countries. Spanning 100 years of film history, this vast and unique catalogue includes among others the iconic Terminator 2, Rambo, Breathless, Mulholland Drive, The Pianist and Belle de jour.
STUDIOCANAL has fully financed box office hits Tinker, Tailor, Soldier, Spy, Paddington 1 and 2, The Commuter and Shaun The Sheep Movie. Current films backed by STUDIOCANAL include Marc Munden's The Secret Garden produced with Heyday Films (Paddington 1 & 2) starring Colin Firth and Julie Walters.
STUDIOCANAL is actively developing and distributing high-end TV series through its network of award-winning European production companies, including TANDEM in Germany (Shadowplay), the UK's RED Production Company (Years and Years), Spain's BAMBÚ PRODUCCIONES (On Death Row) and France's STUDIOCANAL ORIGINAL (Mouche). STUDIOCANAL is also an associate of Danish-based SAM Productions founded by Søren Sveistrup and Adam Price (Ride Upon The Storm) as well as of UK-based GUILTY PARTY PICTURES; Benedict Cumberbatch's production company SUNNYMARCH TV (Patrick Melrose) and URBAN MYTH FILMS (War of the Worlds).
About Creative Licensing:
Located in Los Angeles CA, Creative Licensing is a full service independent merchandise licensing agency that specializes in long-term brand development. Founded in 1982, Creative Licensing currently represents a large catalogue of classic films and properties.
About Reef Entertainment:
Reef Entertainment is a UK based Video Games Publisher. Founded in 2005, the company has changed and developed a lot over the years. In 2010 Reef was acquired by the Creative Distribution Group, which has been instrumental in its growth and development. Not only is Reef actively expanding its Publishing capabilities, it is also pushing forwards by developing its own in house titles as well as managing Exclusive Distribution and full end user Ecommerce solutions for its partners. Reef's team is diverse and exciting, and is built using a combination of strong management with many years of experience in the Video Games and Entertainment Industry, alongside a wealth of up and coming new talent from those new to the industry.
For more information visit: www.reef-entertainment.com
About Teyon:
Teyon is a developer and digital publisher of video games for all major platforms. Established in 2006 in Krakow, Poland, it has since expanded creating more offices in Poland and Japan, employing over 70 gaming enthusiasts. Using proprietary cross-platform technology, Teyon has successfully released over 100 self-developed titles as well as localizing many more. From 2011 the company has been operating a Japanese subsidiary specialized in publishing high quality games for Nintendo Switch™ and PlayStation®4. Teyon Japan released many critically-acclaimed games with Human Fall Flat being the most downloaded title of 2018 in the Nintendo eShop in Japan. For more information visit: www.teyon.com and www.teyon.jp.
Please send any media enquiries to [email protected]