Latest update: Oct. 27, 2023
Release date: Nov. 15, 2019
Genre: Action, Shooter
Developer: Teyon
Publisher: Reef Entertainment




Official website
Buy now
THE MACHINES ARE DESTINED TO LOSE, BUT AT WHAT COST?
Terminator: Resistance is an officially licensed, first-person shooter set during the 'Future War' scenario that was only glimpsed at in the iconic films from James Cameron, 'THE TERMINATOR' and 'T2: JUDGMENT DAY'.
This story takes place in a post-apocalyptic Los Angeles, nearly 30 years after Judgement Day, and stars a brand new hero in the Terminator universe, Jacob Rivers, a soldier in the Resistance led by John Connor. Despite the fact that Jacob is just a lowly private, he'll soon discover that he's been specifically targeted by the latest threat from Skynet and marked for termination!
Skynet may be destined to lose the war, but at what cost to Jacob? Experience the events leading up to the decisive final battle for the fate of mankind in the war against the machines!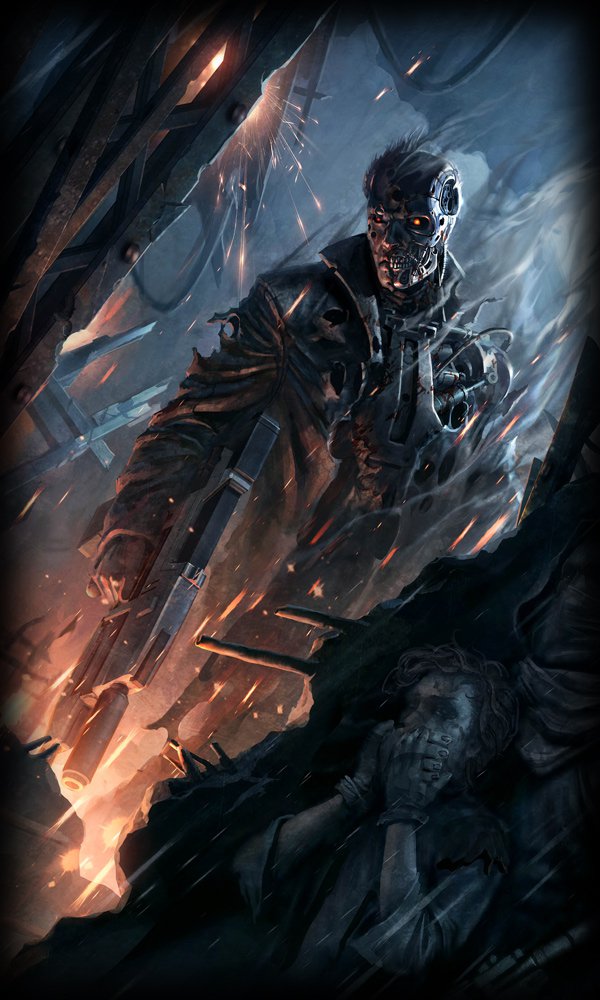 Fight against a selection of iconic enemies from the films, including the T-800, as well as a host of enemies that are brand new to the Terminator universe. Equip an arsenal of plasma weaponry to run and gun or sneak and hack through sprawling environments! The world isn't as forgiving as it used to be so you'll need to search for scraps to trade and craft.
CHANGE THE FATE OF MANKIND!
Choose the kind of hero you want to be by leveling up your skills while exploring post-Apocalyptic Los Angeles. Complete story missions to rise through the ranks of the Resistance as well as side-quests to help your friends. Protect a motley crew of survivors, each with their own motivations and backstories. The actions you take throughout the game will impact their survival and change the ending you get.
Terminator: Resistance - Complete Edition for Xbox Series X|S bundles:
- an enhanced version of Terminator: Resistance, the officially licensed first-person shooter set in the Terminator universe,
- the Annihilation Line Narrative Expansion starring Kyle Reese, and
- Infiltrator Mode, where players get the chance to take control of the iconic T-800 series Infiltrator unit.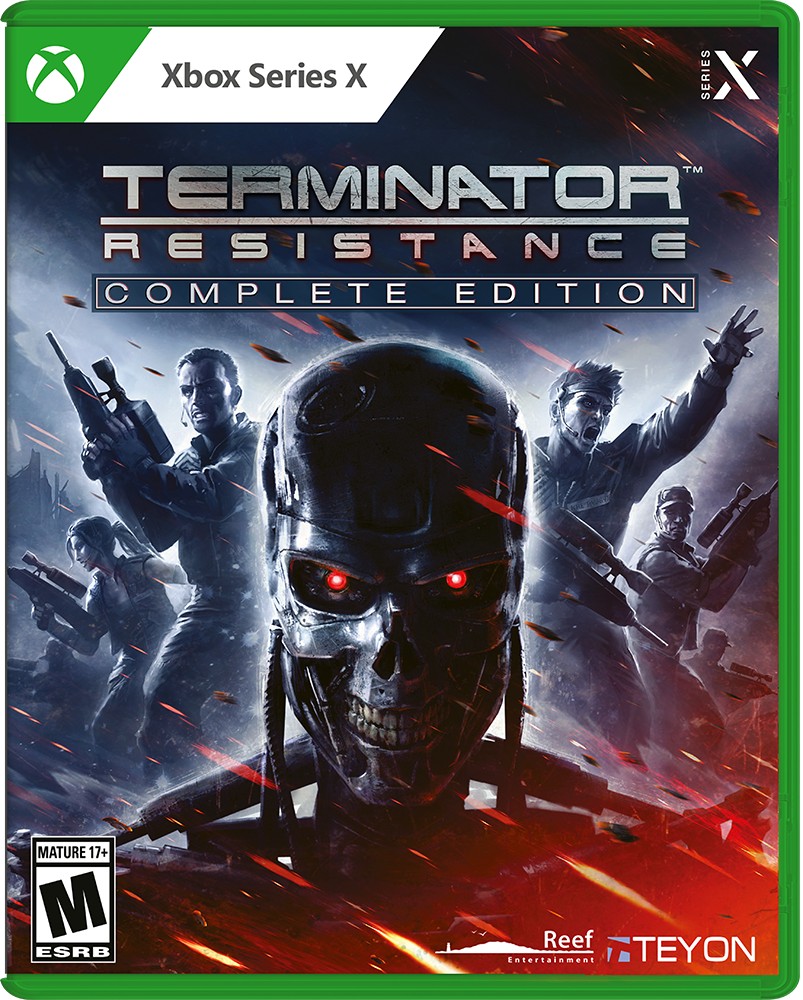 NOW ON XBOX SERIES X|S!
The bundle is available physically and digitally on Microsoft Store.
In addition to the Standard Edition of Terminator: Resistance - Complete Edition, a Collector's Edition will also be available at select retailers, which comes with a SteelBook®, Mini Hardcover Comic, a Collector's Box and five A6 Postcards featuring beautiful illustrations of your fellow comrades. This includes a postcard with never-before-seen artwork of Jessica Baron, tough-as-nails Commander of the Resistance South Division.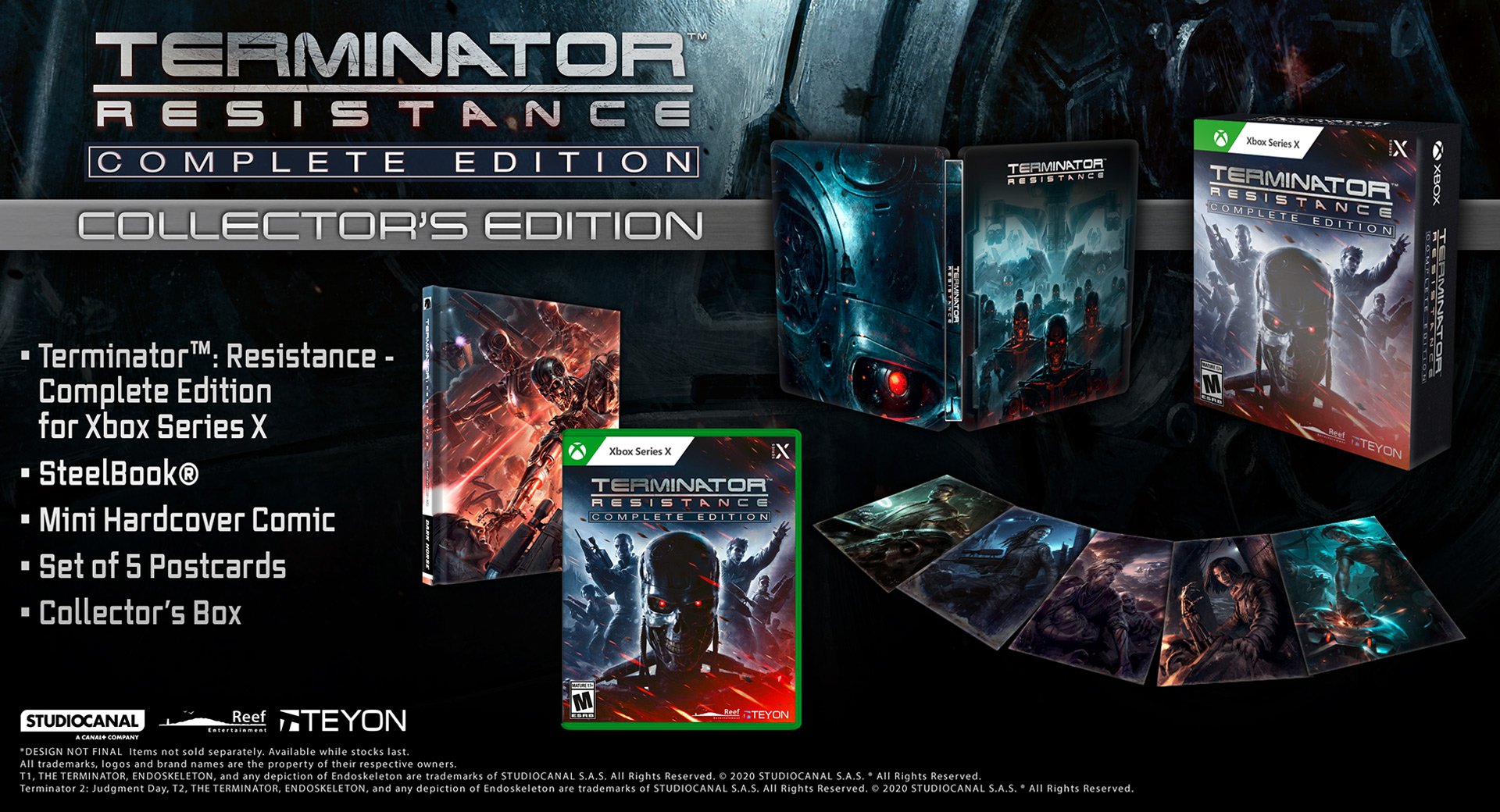 Terminator: Resistance is supported with several enhancements and add-ons.
INFILTRATOR MODE
You've fought for the Resistance, now strike terror into their hearts as the iconic SKNET infiltrator! The latest free DLC Infiltrator Mode is available on Steam and GOG.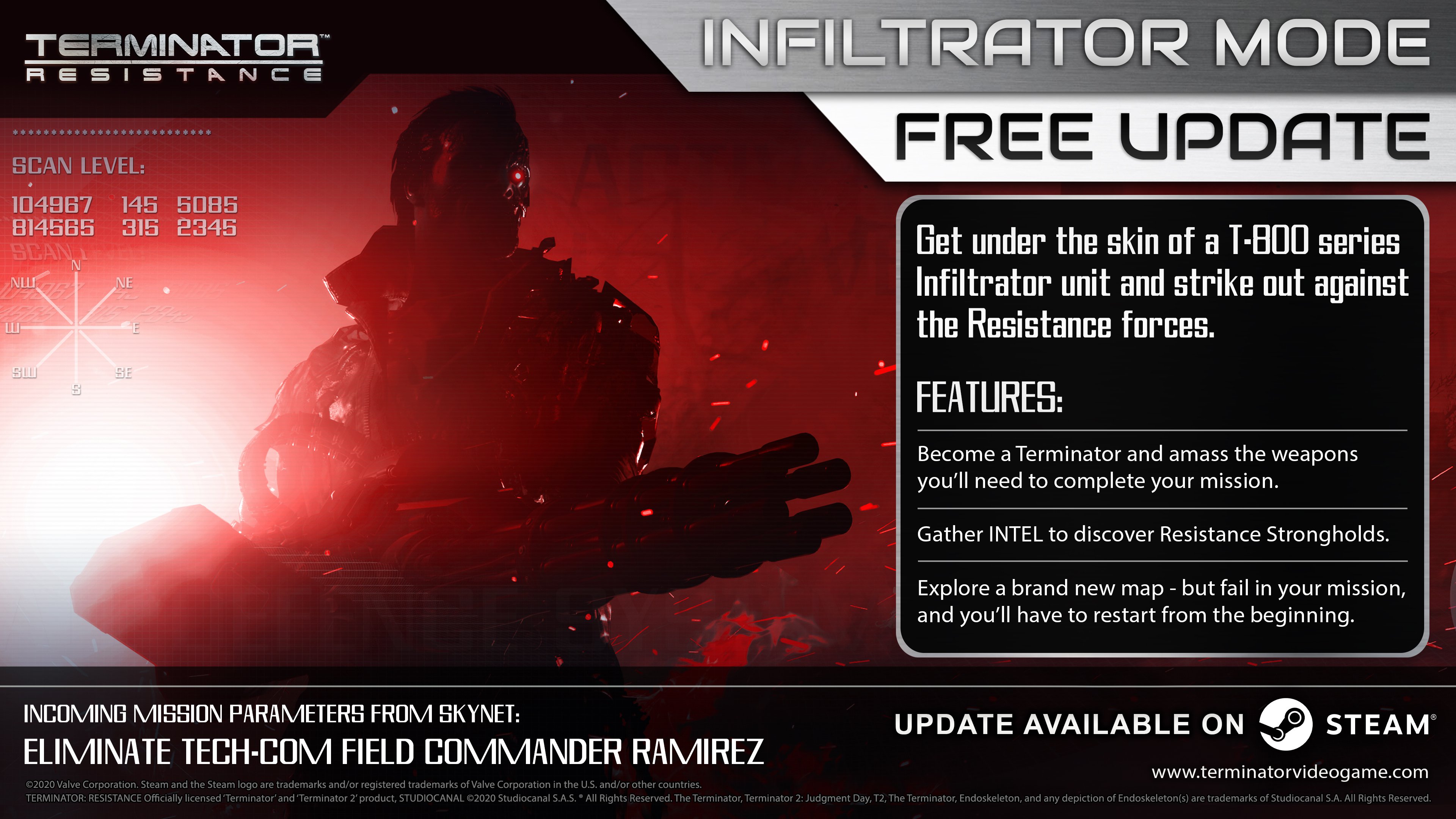 ENHANCED EDITION
Terminator: Resistance - Enhanced is a new version of the game taking advantage of the new capabilities of PlayStation®5. Jump back into the action with Jacob Rivers, while enjoying improved framerates and graphical fidelity, faster load times, and the new hardware features of the DualSense controller. The game on PS5 also includes the Infiltrator Mode.
The physical edition for the PlayStation®5 is available as a Standard Edition and a Collector's Edition, which includes a Steel Book, two-part hardback comic book "Zero Day" from Dark Horse, as well as 4 character art cards and a collectors box.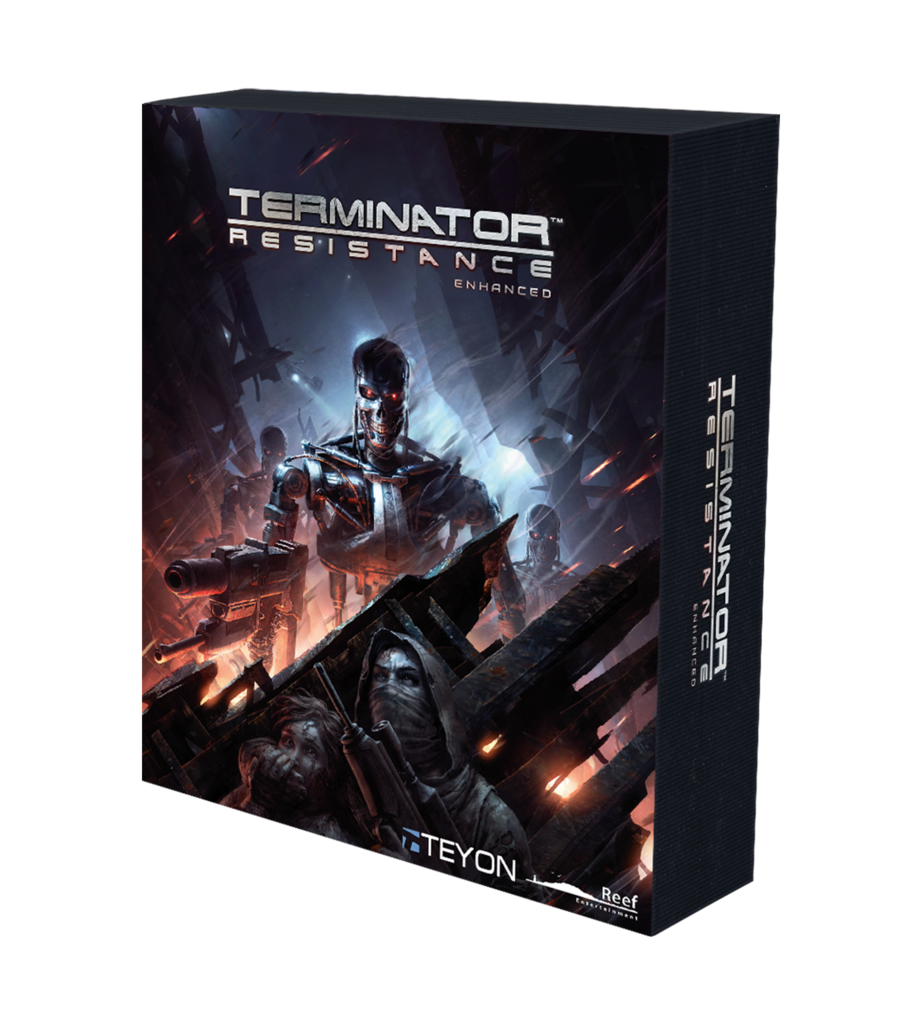 AVAILABLE ON PlayStation®5!
Download the game directly from the PSN Store in Europe, Australia and North America or buy a physical copy at your local store! Links below!
Release date: April 30th, 2021
Pricing: $49.99 (SE) / $59.99 (CE)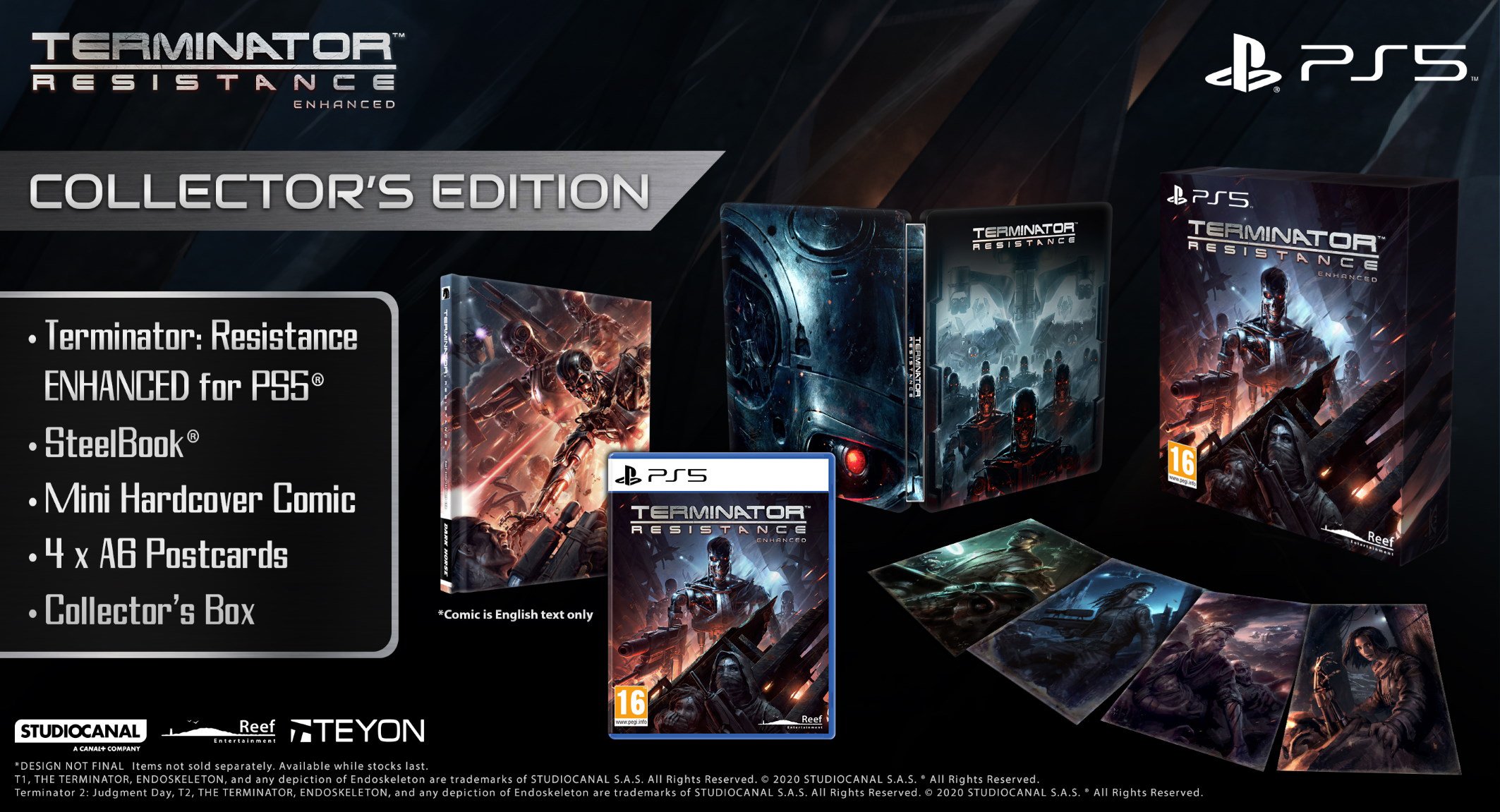 ANNIHILATION LINE
The DLC picks up mid-way through the main campaign story. The Resistance has just defeated their first Infiltrator, but for Jacob Rivers, there's no time to rest up. Orders have come down from John Connor himself that he is to assist in the investigation of Northridge Outpost, a civilian settlement that has mysteriously gone silent.
Why did no one from Northridge attempt to radio in? Is this the work of Skynet? And are the civilians still alive? To find answers, Rivers and a small team of Resistance soldiers led by Connor's right-hand man Kyle Reese must head into the most dangerous territory imaginable...the land beyond the Annihilation Line.
Available to purchase digitally from Steam® and the PlayStation Store on PlayStation®5.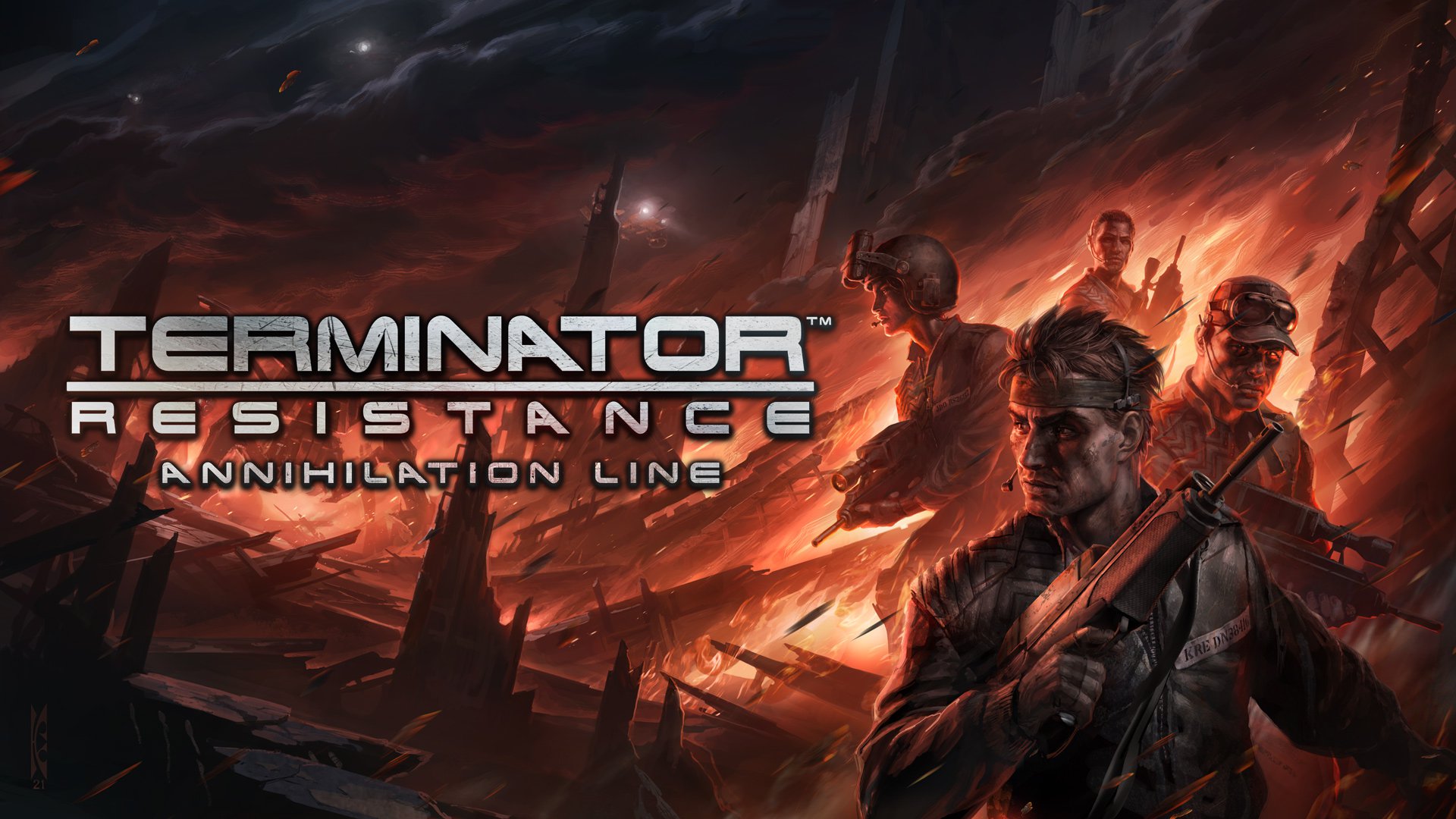 - A thrilling, action-packed original story featuring over 4 hours of new content, which will delve deeper into the history of Jacob Rivers and take players to new areas of post-apocalyptic California.
- Fight shoulder-to-shoulder with the iconic Resistance hero Kyle Reese and help him become the man who will sacrifice everything for the sake of a better future. Plus, meet other characters exclusive to the DLC, and live out Kyle's visions of the future seen in The Terminator.
- Venture beyond the line of fire as you cross Skynet's deadly Annihilation Line, and carry out a vital mission to strike a deadly blow to the machines. Arm yourself with an expanded arsenal of weapons, and defend against enemies never before seen enemies such as the T-600 and HK Centurion.
- Enjoy the fullest frame rate and resolution possible with AMD FidelityFX Super Resolution.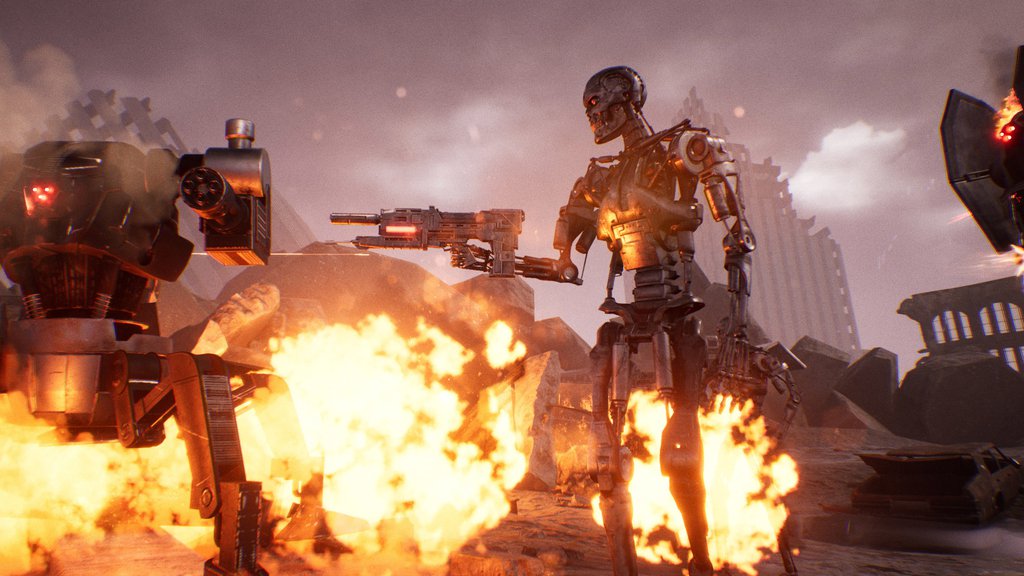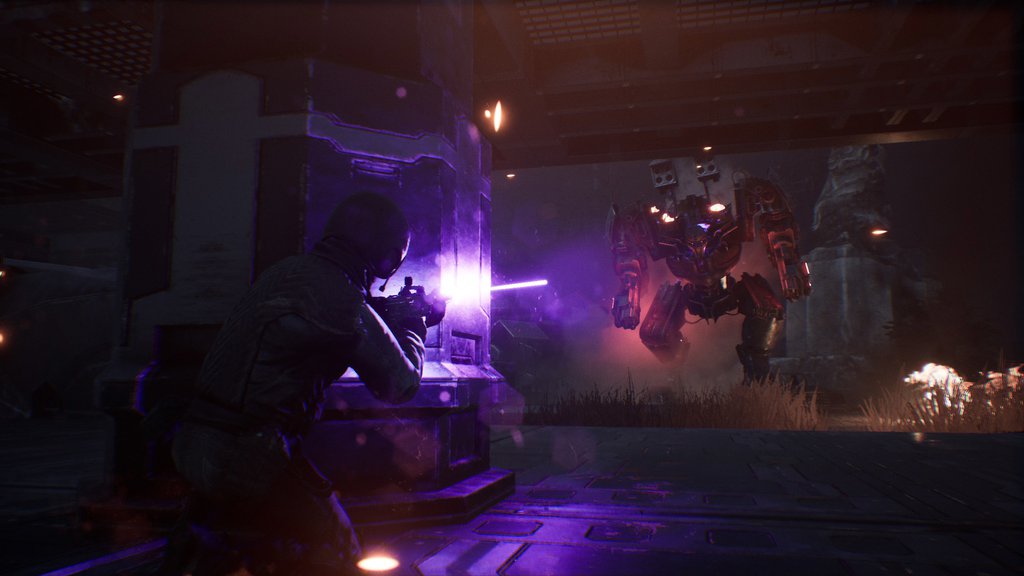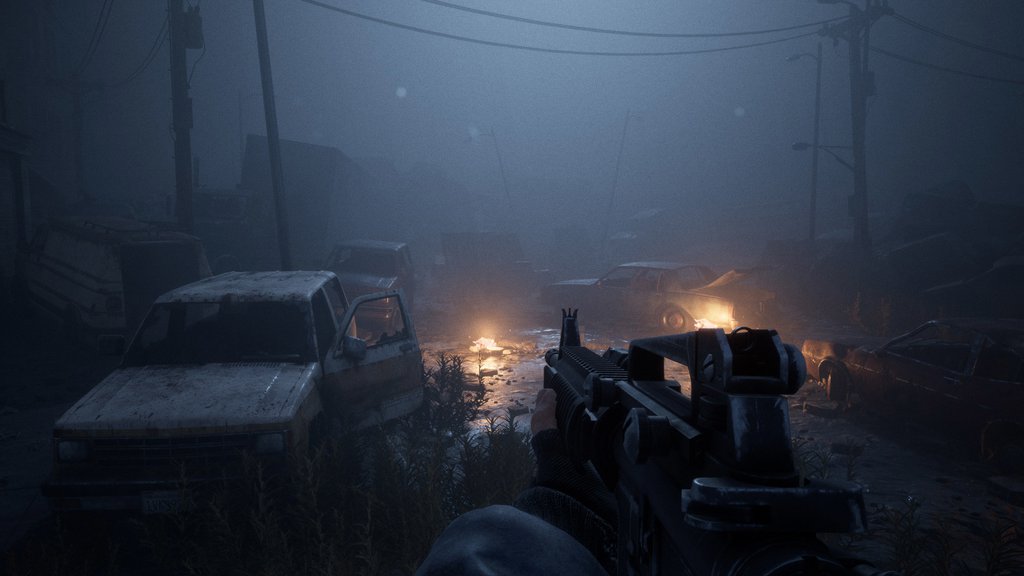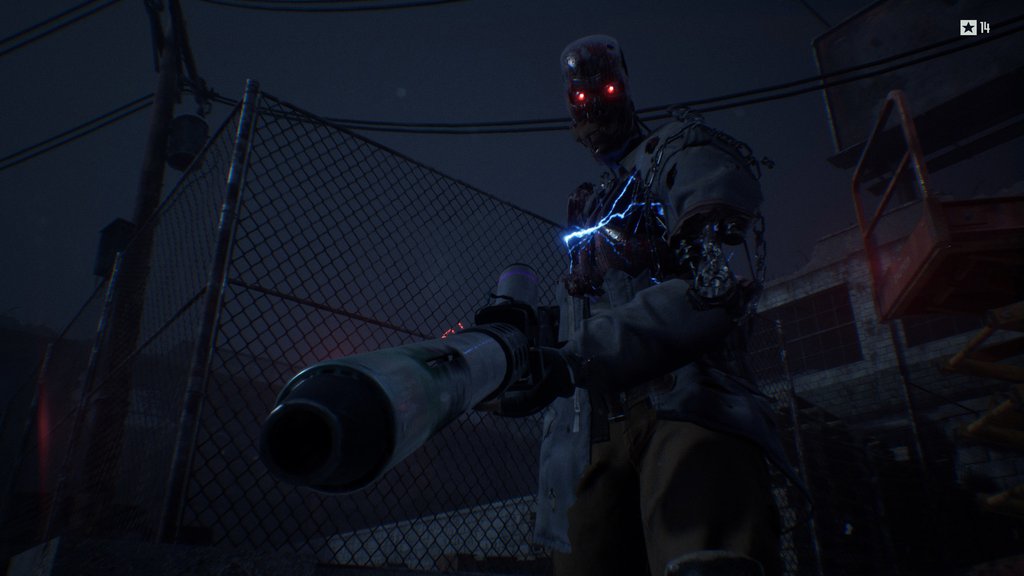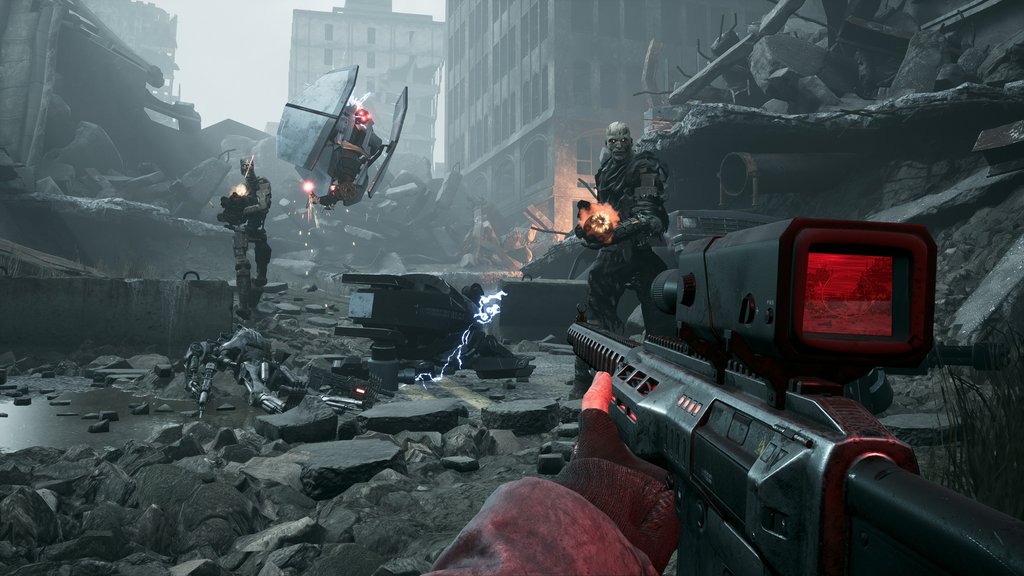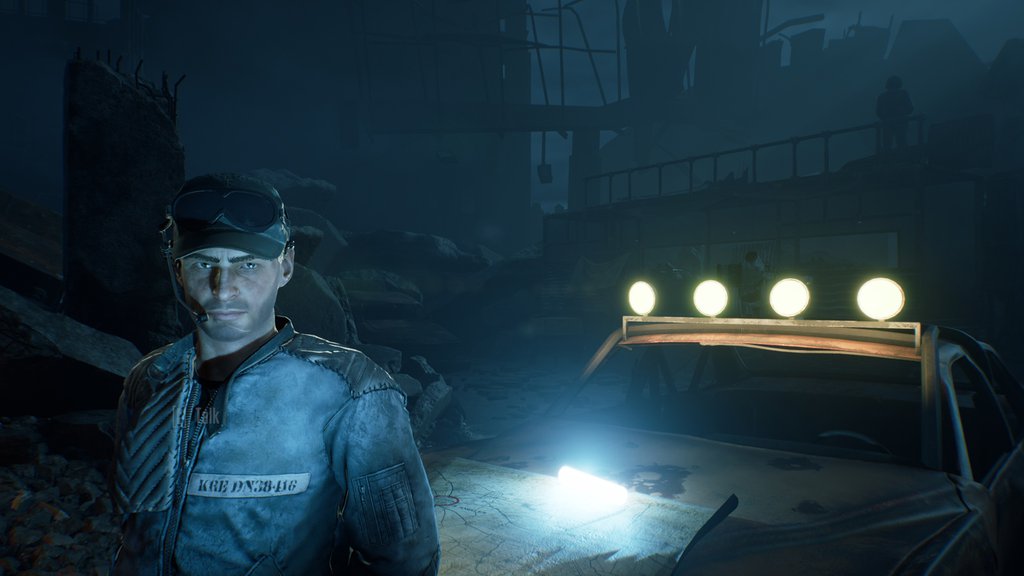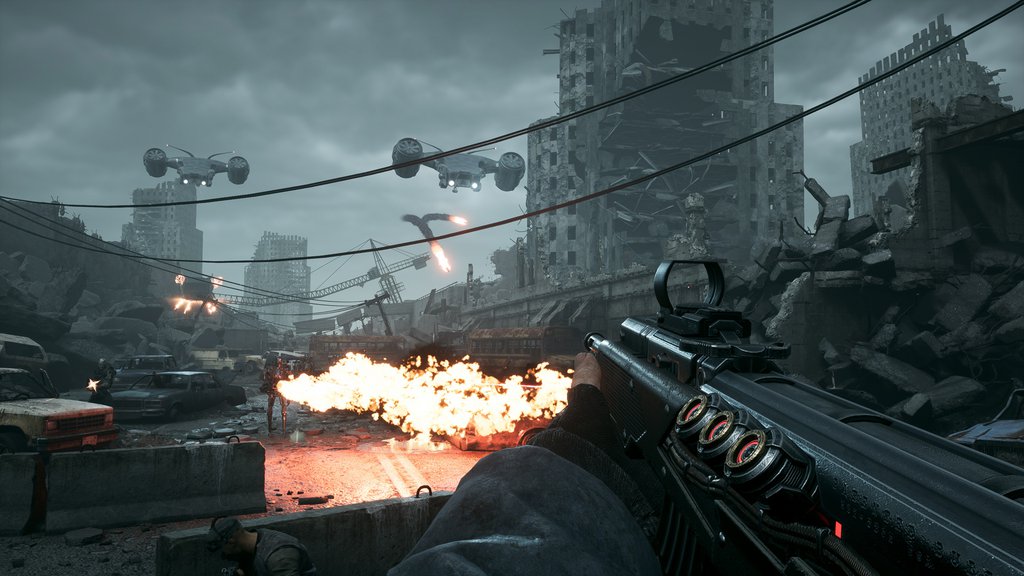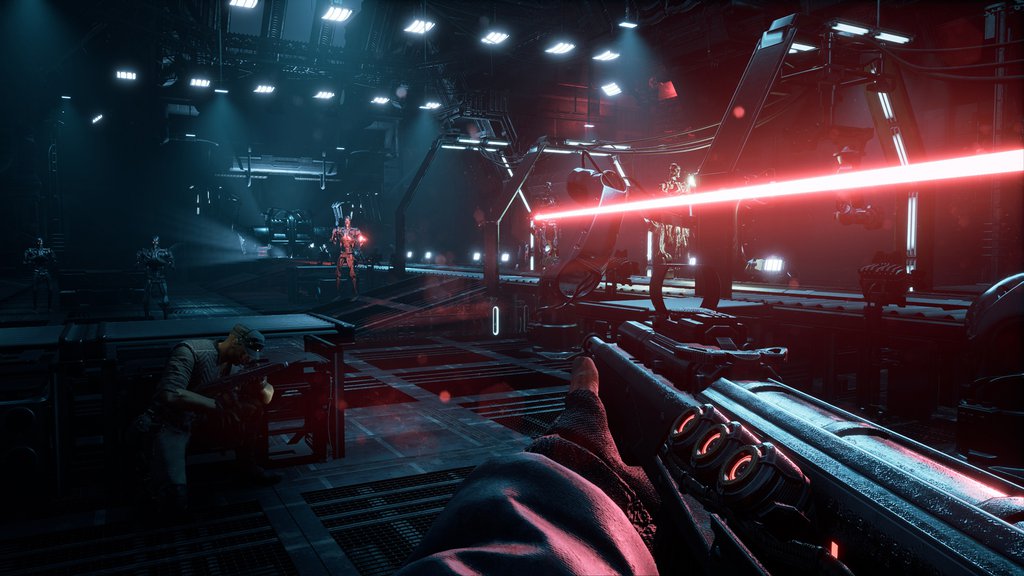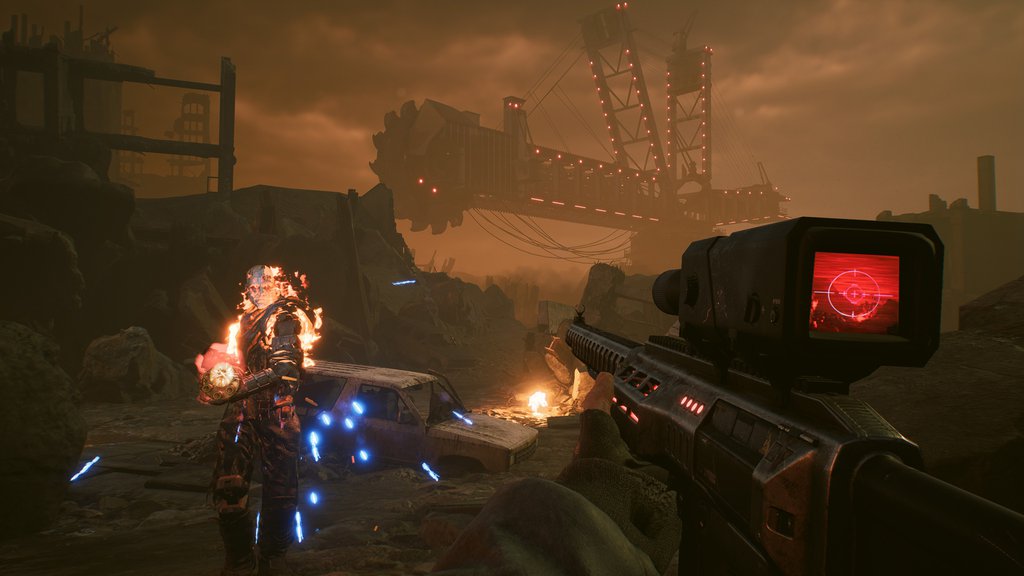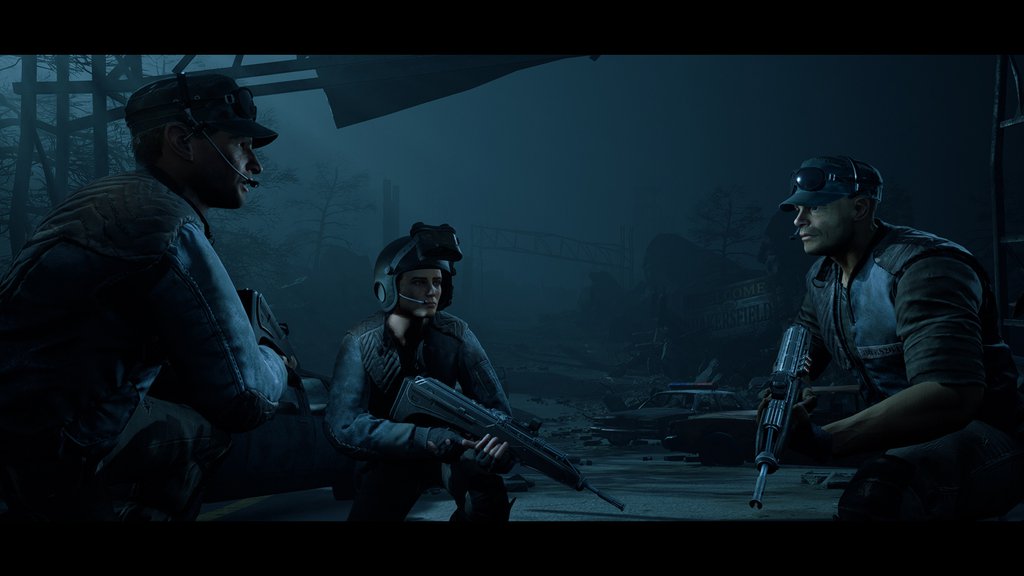 "Destroying terminators is really satisfying and I'm certain that this game will be one of the biggest surprises of 2019 to some shooter lovers out there."
"Unexpected gem (...) it's one of the better games I've played in recent memory. Story-wise if you are a fan of Terminator, it's amazing. I would give this game a solid 8 out of 10".
"This is actually a superbly enthralling action-packed ride, that is tons of fun, and offers the most highly immersive licensed game experience since 2009's Ghostbusters".
"It was clearly made with love and passion for the source material (...) I highly recommend this to anyone, who at the very least, appreciates the James Cameron Terminator films".
BUY IN STORES
US
UK
Germany
Denmark
France
Norway
Sweden
Czech Republic
Canada
Poland
Belgium
Finland
Netherlands
Spain
South Africa
Italy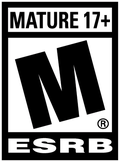 Terminator: Resistance is developed by Teyon and published by Reef Entertainment. The Terminator © 2019 Studiocanal S.A.S. ® All Rights Reserved. Terminator 2: Judgement Day © 2019 Studiocanal S.A.S. ® All Rights Reserved. Unreal Engine, Copyright 1998 – 2019, Epic Games, Inc. All rights reserved. Unreal is a trademark or registered trademark of Epic Games, Inc. in the United States of America and elsewhere. All other trademarks are the property of their respective owners.